Meltac Cloth
Welded Mesh Cloth. For Reinforcing. The Cross Points of Warp and Weft are Fixed by Thermal Bonded, so the Gap of Mesh is stable.
Feature

Great breathability, lightness, and strength.

Use

As reinforcing materials. For something needs breathability.

Material

Polyolefin (Polyethylene, Polypropylene)

Color

Various Colors

Origin

Japan
Product Information
<The Structure of Meltac Cloth>
The key point of Meltac Cloth is the 3 layers yarn structure. HDPE(High density polyethylene) layer is sandwiched by two LDPE(low density polyethylene) layers. LDPE is melted at lower temperature than HDPE. So, when woven, we can bond warp and weft at the cross point to heat the yarn and melt only the LDPE layer. This thermal bonding process realizes the good strength and the stable gap of mesh.
※This example is showing a Polyethylene made product. We can also offer other Polymer materials products.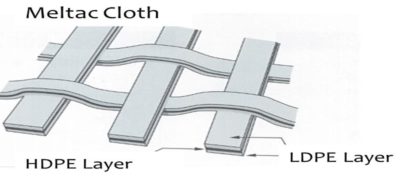 <The features of Meltac Cloth>
1. When bonded to PE materials, Meltac Cloth doesn't need any glue. The surface LDPE itself works as glue.
2. Meltac Cloth has a great breathability.
3. It's available up to 4m width without joint.
4. The cross point of warp and weft is thermally bonded, so the gap of mesh is so stable.
5. The material of Meltac Cloth is Polyolefin. So it has  a chemical resistance and a good stability for water.
6. Meltac Cloth doesn't emit dioxin when burned because it's made of polyolefin.
7. Meltac yarn is extruded yarn. So it can be any colored, and we can put the special performances to the yarn.
    For example, UV resistance, flame resistance, Snow-Tex reflection etc.
    ※The information about Snow-Tex is here(https://en.hagihara-pls.com/productcategory/snowtex/).
8. Meltac yarn is processed of stretching, so it's light but still has a good strength.
9. You can arrange the aperture ratio which fits for your requirement.
<Some examples of use>
1. Meltac cloth can be attached to the PE(Polyethylene) foam as a reinforcement.
2. When covering protruding objects, Meltac is useful for untearble reinforcement.
3. Softness and flexiblity of Meltac Cloth are useful for packaging vegetables.