Snapfinger
PE laminated fabric with soundproof and flame retardant performance, enough strength and light weight to handle.
Feature

Light weight to handle.
Less degradation or hardening in cold area, suitable for low-temperature field.
No release of dioxin when incinerated, no harm to the environment and health.

Use

Wall Cover for construction site
Scaffolding Cover, Scaffold Sheeting, Covers for soundproof use.

Material

Polyethylene

Color

Grey

Origin

Made in Japan
Product Information
Properties
Weight
795g/m²
23.5oz/yd²
Thickness
1.00mm
39mil
Temperature Range
-30℃ to + 70℃
Performance
Tensile Strength
Warp
1400N/5cm (JIS 1096)
400lbs (ASTM D751)
Weft
1700N/5cm (JIS 1096)
350lbs (ASTM D751)
Elongation
Warp
15% (JIS 1096)
20% (ASTM D751)
Weft
16% (JIS 1096)
23% (ASTM D751)
Tear Strength
Warp
450N (JIS 1096)
75lbs (ASTM D4533)
Weft
450N (JIS 1096)
95lbs (ASTM D4533)
Flame Retardant Test
Passed (JIS L1091)
※The above figures are measured values, not guaranteed values.
Comparison of sound insulation effect ( Snapfinger vs. PVC soundproof sheeting)
※The initial sound source is 80dB
    Values in Parentheses() are transmission loss that means the soundproof effect.
| Distance from sheeting | 5m | 10m | 20m | 30m |
| --- | --- | --- | --- | --- |
| Snapfinger | 78(16) | 75(14) | 68(10) | 64(8) |
|  PVC Soundproof | 75(19) | 72(17) | 68(12) | 63(9) |
※The above figures are measured values, not guaranteed values.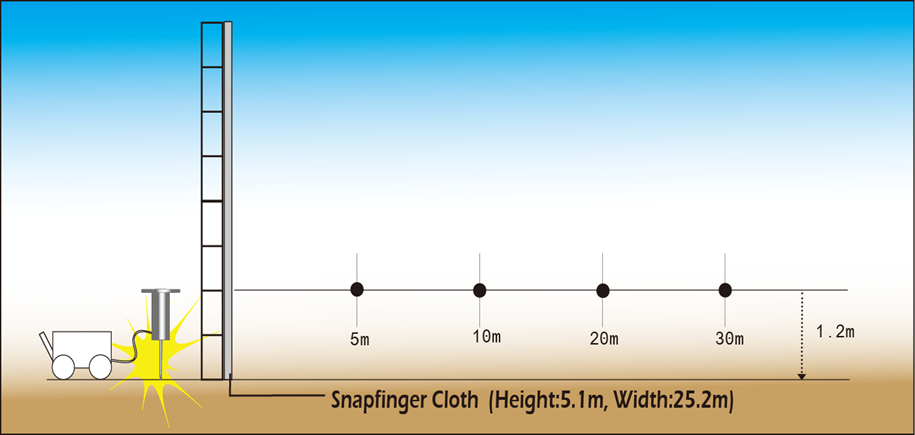 <Remarks>
・Generally, the noise would be heared by half sensorially if 10dB lower.
・The effect of snapfinger will change by the condition of construction such as the height of tarp, sound source, distance from the receiving point, type of noise source etc.